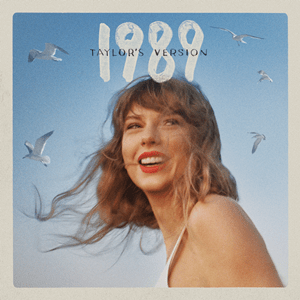 Taylor Swift reclaimed her fifth studio album,1989, officially on October 27th. 1989 Taylor's Version is one of the most anticipated re-recorded albums of her discography, with all 16 re-recordings and 5 vault tracks.
As one of 1989's biggest fans, I have a lot to say about the album. Personally, there are a few negatives to the new album with the small adjustments of songs like "Style" or "New Romantics" that make it seem like it has an entirely different sound, but also great additions like the new strength in "Out of the Woods" as well as the overall revival of Swift's 2014 pop era.
The first 16 songs have been familiar to us for the past 9 years, ever since the original album was released in 2014, but the 5 brand new vault songs are what were the most awaited for .
Getting into the first vault track called "'Sl*t!'" This song was first hoped to be an upbeat track about Swift's fight in ignoring sexist hate during this era of hers. What we got instead was a beautiful love song, talking about the media's effect on her relationships. It still had a meaning to what we believed the song was about, but in a much sweeter tone.
The second vault track is called, "Say Don't Go" which revolves on Swift talking about her heartbreak in a lost relationship, hoping for it to be fixed with communication. In a way, she complains about her unrequited love for this person.
1989 TV's third vault track is, "Now That We Don't Talk" which is a song about reflecting a recently ended relationship. Seeing the changes in your partner while also having to be in no contact with them. The song ends with acceptance, but throughout the song there is uncertainty and moments where she questions the necessity of separation.
The fourth vault track is "Suburban Legends". This song I was really excited for, but unfortunately it's my lowest ranked vault track. The song revolves around two lovers wanting to stick with each other despite their dreams of moving onto bigger things. 1989 being a semi-city album made this song seem like it would reach audiences who do not live in the city. "Suburban Legends" has a story that I usually enjoy but due to the rhythm and music itself; it currently is not my favorite.
The fifth and final vault track added to 1989 Taylor's Version is "Is It Over Now?" rumored to be about Swift and Harry Styles's past relationship. This is for sure one of my higher ranked vault tracks, one reason being I have always loved her songs rumored to be about her and Styles, but also because of its reflection of a seemingly done relationship while questioning its end.
1989 Taylor's Version is not what I quite expected, but I think I fail to realize what Swift brought to the table is exactly what was promised. It is her old album, but now, officially owned by her. It is meant to be something new that represents her present self, and that's what makes 1989 TV monumental.