Special Olympics recap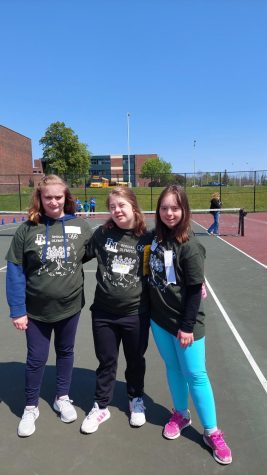 A stellar performance was completed by FM Students who competed in the Special Olympics held on May 18th at Cicero-North Syracuse High School. The event was hosted by the Special Olympics organization, whose goal is to foster inclusion and acceptance of all people.
Before FM students left for the Special Olympics, a crowd gathered outside where buses transporting the students were leaving. Students cheered on their fellow athletes before they left, giving them a huge boost of motivation before leaving. Some classes even opened their windows to cheer before the buses took-off with a police escort. Trevor Martin, an FM junior and participant in the Special Olympics acknowledged this boost of confidence that the community gave. "We felt really motivated to do well. I can tell some of us were a bit nervous beforehand, and worried we weren't going to do well, but the students cheering us on gave us real motivation to do well."
Once the participants arrived at the event after a 20-30 minute bus ride on the breezy morning, a large march of all the athletes from participating schools commenced. Participants walked simultaneously alongside each other, gazing their eyes across the field, seeing the excitement of all the spectators ready to cheer them on. Over 500 students from across Onondaga County school districts participated in the Special Olympics, and they could all be seen together at this very special moment. Not only were there the participants and spectators at the Special Olympics, but participating school mascots were there as well. 
The students were given a chance to refresh their minds and eat a little before the events began. There were energy drinks, gatorade, pretzels and freshly made pizza for the athletes. After this break, the games would commence. The events were field-based with events such as the 50, 100 and 200-meter dash, the running long jump, shot-put, a game of softball, the sand-jump, outdoor bowling, target practice and many other activities. When each event was finished, awards were given out and each participant would stand for the crowd and hear them loudly cheer. In almost every event, a participant receiving an award was an FM student.
Participants at the Special Olympics were given a chance to show off their untapped potential and versatility as athletes. However, the most important part was the opportunity for social interaction for everyone at the Olympics. Participants got to meet new people they have never seen before, they got to hang out with companions they don't get to see everyday and they were able to have friendly competition with their new friends. The Special Olympics brought people from all backgrounds and abilities together.