Spring Break music trip recap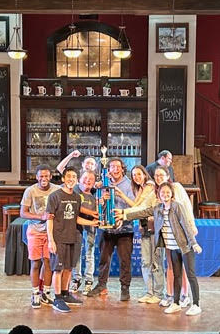 On the Wednesday before April break, a long anticipated Music Department bus trip to Colonial Williamsburg and Busch Gardens commenced. Suitcases that had been dropped off previously were grabbed by students immediately after school as they hustled to the buses. Their excitement turned into sleepiness a few hours into the initial seven hour bus ride to Washington D.C.
Arriving at 11:00 pm at a Bethesda Marriott, students set up their four-person rooms for a one night stay. The next day, they woke up for Howard University masterclasses on the music they would be performing in Williamsburg. Following lunch at the Ronald Reagan International Food Court, they were off to the Museum of Natural History, the Air and Space Museum, the Hirshhorn Art Museum, and the National Gallery of Art for the afternoon. That night, almost 180 students piled into the Dave and Busters near Williamsburg for a night of new records and numerous prizes. 
Though the day was long, there were still nearly 72 hours left. Friday was split between Colonial Williamsburg and Busch Gardens. The historic settler's village included tours of the Capital, Governor's Palace, and the Raleigh Tavern if one so wished. Many wandered the grounds, stopping in at small shops such as the blacksmith, cabinetmaker, and bookbinder. On the other hand, Busch Gardens was designed for thrill-seekers. Griffon featured hanging over a 206 drop before falling and still included upside loops and corkscrews to go through, and was probably the most memorable, though few have forgotten any of the rides yet. Students would come back to Busch Gardens the next afternoon to enjoy their favorite rides again.
Saturday morning was the climax of the trip: the competition. Choir performed at a mega-church with 15,000 members spread over five locations; the orchestra and band ended up in a much smaller (but still very nice acoustically) high school auditorium.
When the awards were announced that night, FM's combined bands, symphony orchestra strings section and chorale were ranked the highest, though the announcer kept stumbling over the name of the school (Fa-YETTES-ville…m…m, was cut off by cheering once the students figured out what he meant to say). Many students went to bed that night for their last night in the Williamsburg hotel in a good mood. Thus, the eight hour drive back on Sunday felt considerably faster than expected, and before everyone knew it, a jammed-packed expedition was over.
About the Writer
Hudson Brenner
Hudson Brenner is a co-features editor. His password is the last 8 digits of pi, although he is contemplating changing it to the next 16 to accommodate...