CNYMUN 2023 conference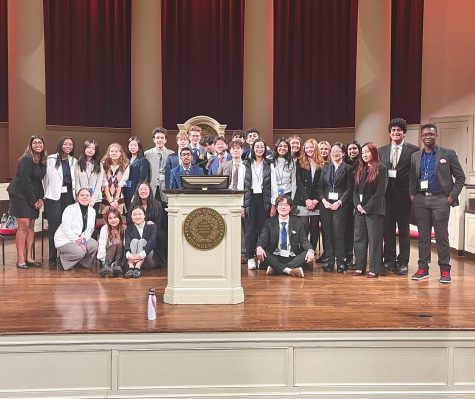 CNYMUN Coverage
By: Hudson Brenner, Contributing Writer
Every year, FM runs a medium-sized Model United Nations conference at Syracuse University for schools in the Central New York area from Jamesville Dewitt and Manlius Pebble Hill to Brighton and Pittsford Mendon in Rochester. Six large and five small committees gathered together to propose solutions for issues relating to Global Equity, the conference's theme. From discussing Artificial Intelligence, Mega-Projects in the Arab Region, the China-Taiwan Crisis, to a shortage of midwives, delegates consistently did their best to choose what was right for their country.
At the opening ceremony, Dr. John Palmer of Colgate University riveted the audience with his speech about the responsibilities of the Educated Elite. This set off for a long day, and by the end, most of the smaller committees had passed resolutions addressing their first topic. Larger committees ran in a few more roadblocks and unfortunately were not able to resolve their second topic by the end of Saturday. 
In supporting the theme of Global Equity, 9th Interdisciplinary Honors students, who are required to attend CNYMUN (pronounced like cinnamon), were also only allowed to represent Least Developed Countries (LDC's). This was a difficult role to play against extremely resourceful countries and resourceful delegates. FM Model United Nations Club Members either chaired committees, acted as part of the secretarial staff, or served as delegates. There will be more conferences this year, and it is not too late to join the club. 
Prior to the closing ceremony, delegates received CNYMUN 40th anniversary tote bags (but don't get them wet to prevent staining your bag). Two FM Interdisc students (Noya Amjad and Aaron Graham) won honorable mentions, although Pittsford Mendon and Brighton did exceptionally well on this front. When it all came to a close, Co-Secretary General Omar Bou Aram (the other Co-Secretary General was Allison Wong) asked for any points or motions on the floor (standard procedure during committee). One delegate motioned to close debate, leaving the only option for that motion to be put in order and the conference to come to an end.
About the Contributor
Hudson Brenner
Hudson Brenner is a co-features editor. His password is the last 8 digits of pi, although he is contemplating changing it to the next 16 to accommodate...