MC Introductions
FM's Dance Marathon is always a highlight of the school year. Each year, fourteen seniors are chosen to partake in a five-month long fundraiser for Camp Good Days and Special Times, a camp for children impacted by cancer or sickle-cell anemia. This year's DM MCs are as follows:
Black Team: Xen Warner and Gisele Fumarola
Blue Team: George LaCombe and Sydney Green
Red Team: Liam Malgieri and Isabelle Koster
Yellow Team: Jack Dixon and Lucy Gamble
Purple Team: Moneer Alboom and Alana Isley
Green Team: Sam Duncanson and Georgia Perry 
Pink Team: Scott Hills and Olivia Kimbrough
Here's what some MCs are most looking forward to this upcoming Dance Marathon:
Scott Hills, Pink Team: I'm super excited for the opportunity to work with this amazing group. We all bring something unique to the table, and we have big goals for fundraising this year. Going to camp and meeting so many of the kids was such a life-changing experience for me and completely changed my perspective on DM. I'm so excited to apply what I learned at camp to DM this year and bring the whole community together for the kids.
Lucy Gamble, Yellow Team: I'm most looking forward to getting the whole community involved with Dance Marathon. As an MC, we're passionate about fundraising to help children with cancer or sickle cell anemia to go to Camp Good Days. I'm so excited to get started in spreading the important message of FTK and sending as many kids to camp as possible.
Xen Warner, Black Team: I'm excited to go back to camp and enjoy time with the kids, as well as dressing up as a princess for them.
Keep your eyes out for more information on DM and how you can help kids and families at Camp Good Days and Special Times in the upcoming months, and let's work together to beat last year's fundraising goals!
About the Contributors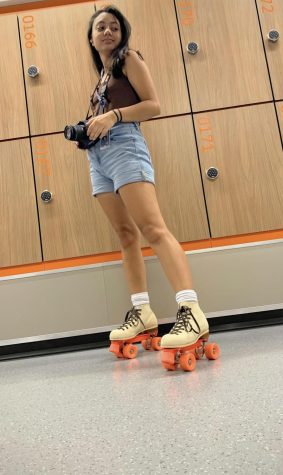 Maya Perera, Photographer
Maya Perera is so excited to be a photographer for The Buzz for the '22-'23 school year! She is a senior at FMHS, and loves to make photography and...