FM under national spotlight for banning Squid Game costumes
Red light, green light. Tug of war. A chance to escape debt and win millions of dollars.
The Netflix thriller Squid Game has become increasingly popular among young audiences in the past months. This South Korean drama series outlines the journey of hundreds who have been invited to participate in a truly life-changing competition. But only one competitor will emerge victorious, while the others will face violent and deadly consequences.
With Halloween about a month-and-a-half after Squid Game's premiere on September 17th, many school age children planned on dressing up as characters from the series. Halloween stores stocked up on masks for children to be guards, as well as green tracksuits for children to be competitors.
Many students also began reenacting scenes from Squid Game during recess time. The games featured in the series, such as red light-green light and tug of war, are intended to be children's games after all. However, children were also reenacting the violent parts of these scenes, such as the killing of participants who lost.
The Fayetteville-Manlius School District therefore decided to ban Squid Game from Halloween costumes and recess activities at its three elementary schools: Mott Road, Enders Road, and Fayetteville Elementary.
The FM school district  set guidelines for the Halloween dress code and stated that costumes relating to Squid Game do not fall within them. Superintendent Dr. Craig Tice, in a statement provided to CNYCentral, said, "Our principals wanted to make sure our families are aware that it would be inappropriate for any student to wear to school a Halloween costume from this show because of the potential violent messages aligned with the costume."
The administration  also discouraged elementary age children from Squid Game related recess activities. They informed parents of this in hopes that "parents and guardians would have the opportunity to speak with their children themselves about it and reinforce the school message that games associated with violent behavior are not appropriate for recess," explained Dr. Tice.
Although this announcement largely pertains to the parents, guardians, and students of these three elementary schools, it has since gained significant coverage by local and national media. CNYCentral covered the story early on and released the statement that Dr. Tice provided. Soon after, news media outlets including The New York Times, CBS News, and The Washington Post put FM's decision under national spotlight.
Squid Game has been undoubtedly successful at reaching audiences with a captivating plot rooted in familiar and nostalgic childhood games. Yet, this action taken by the FM School District perhaps raises the question about the show's influence on younger audiences, encouraging further discussion on whether or not the messages behind these seemingly innocent games are actually harmless entertainment or not.
About the Writer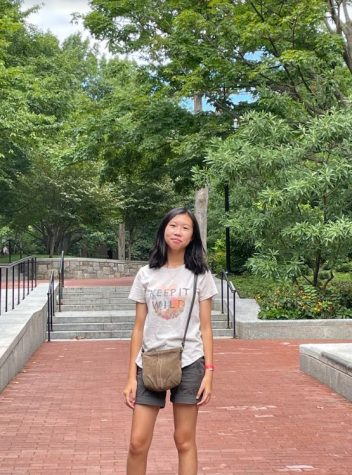 Allison Wong, Communications Director
Allison Wong is a senior at FM and this is her fourth year as a member of The Buzz. After starting out as a contributing writer for two years, she was...