2021 (Taylor's year)
While many of us can arguably agree that 2020 and 2021 have not been our years, Grammy winning musical sensation Taylor Swift might beg to differ. Most of us recall dull, repetitive days while we painstakingly trudged through quarantine, but that's okay, since Taylor was productive enough for all of us and then some. She shocked fans by letting them in on a little secret early in 2021; following the already exciting releases of folklore and evermore, Taylor's newest "sister" albums, she would be rerecording all six of her "old Taylor Swift" albums with a "new Taylor" twist!
Speculation as to why Swift would rerecord her hits immediately turned towards her drama with Scooter Braun. In 2004, Taylor signed with record label Big Machine. Between 2006 and 2017, she released six studio albums under this management. After Braun bought the record label, he sold the rights to all six albums to a private equity company called Shamrock Holdings for $330 million. During an interview with Good Morning America, Swift declared, "I just think that artists deserve to own their work. I just feel very passionately about that," giving a little insight as to why she would rerecord her hit albums following the drama with Braun. Needless to say, Swift doesn't need a man messing with her music; she can take care of herself.
Soon after announcing her plan to re-record all six studio albums, she began dropping hints about which album would be first, in true Taylor fashion. She included hints in her Instagram posts, sharing hidden messages with her fans announcing the rerelease. On Friday, April 9th, many fans got to experience the classic Taylor Swift songs of Fearless for the first time… again.
While the re-recorded classics alone awe-struck fans, Swift also released six new, never before released tracks "From the Vault" that left fans obsessed, to say the least. In a surprise release two days before she dropped Fearless (Taylor's Version), Taylor released "Mr. Perfectly Fine," which has undoubtedly been played on repeat by fans since April 7th.
Some immediately analyzed the lyrics of "Mr. Perfectly Fine" and connected it to Swift's relationship with Joe Jonas, whom she dated briefly in 2008. Many Swifties believe that the lyrics "Mr. Insincere apology so he doesn't look like the bad guy" address her "swift" breakup with Jonas during a phone call between the two that lasted less than thirty seconds, which she discussed in 2008 on the Ellen Degeneres Show. However, we many never truly know who inspired these lyrics, nor do we really need to know, as Taylor Swift's musical talent undoubtedly stands all on its own.
Along with "Mr. Perfectly Fine", the five other new tracks she released included "You All Over Me" featuring Maren Morris, "We Were Happy," "That's When" featuring Keith Urban, "Don't You," and "Bye Bye Baby."
Taylor's style of more heartfelt, slow songs that she has recently added to her musical arsenal was also exemplified in this album. Some songs like "We Were Happy" and "That's When" left many fans sobbing, eating ice cream out of the container on the floor at three in the morning… or was that just me?
Many fans also enjoyed the reunification of Swift and Keith Urban, as she opened for the star on his tour in 2009. Swift seemed to get every little detail down in her new album, giving many fans an immense sense of nostalgia for their 2008 personas.
Theories have arisen as to which studio album would be rereleased next, and some fans have come to the conclusion that it will be 1989. Whichever album it turns out to be, Taylor will inevitably continue down the impressively productive road that she embarked on in the beginning of quarantine. Many are excited to follow Taylor's musical journey and see how she will continue to grow and change as a leading artist in the music industry. Wherever Taylor decides to go with her musical career, fans will obviously remain in awe of her individuality, productivity, and her strength as she navigates the unfair situations thrown at her by the music industry.
About the Contributor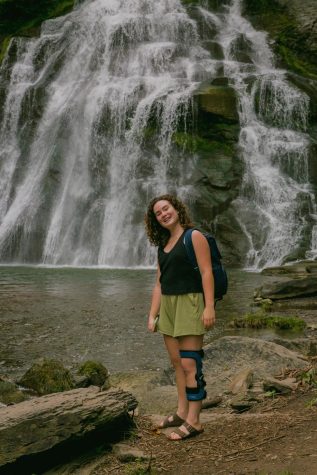 Olivia Kimbrough, Editor in Chief
Olivia Kimbrough is a 2023 at FM High School. She joined The Buzz her freshman year of high school and her love for both writing and staff has only grown...