Stop Asian hate. Love Asian people.
As the month of April began, the country passed the one year milestone of living in the COVID-19 pandemic. To many, the milestone symbolized a recession to the once all-encompassing virus and the struggles that came with it. 
But for Asian-Americans, the beginning of April meant something different. Since the start of the pandemic, the Asian-American community has been blamed for the virus. Yet by April, this had evolved into unprovoked hate crimes driven by racism. The vicious hate seemed like it was going to continue threatening Asian-American lives far past the pandemic. 
With this in mind, the Syracuse Asian Student Alliance held a Stop AAPI Hate rally on Saturday, April 3rd at the Manlius Village Amphitheater. The alliance is composed of youth activists whose work demonstrates the willingness of student leaders to initiate change.
Maddy Malgeri, who played a key role in organizing the rally, said, "I was incredibly proud to witness such strong leadership. Not only did the willpower of those involved allow the rally to take place and run smoothly, but their devotion to the movement alone was moving."
The rally kicked off with student speakers and an open mic where people discussed their own experiences with anti-Asian racism as well as the importance in rising up as a community. 
The event continued with a march around the area, where participants held signs that depicted messages including "Stop AAPI Hate," "Stand in solidarity," and "End Violence Against AAPI." Rally leaders initiated call-and-responses such as, "Stop Asian Hate! Love Asian People!" and "What does community look like? This is what community looks like!" 
And this rally was what community looks like. 
"Our ability to come together to stand against racism, to make space for each other, and to channel grief into action, is a testament to the strength of our community." said Peilin Lu, who helped lead the rally.
 "Community isn't maintaining an 'us versus them' attitude; it's developing a bond among us and standing up for everyone in our community," Amelia Chin, a speaker at the rally, reminded everyone. "Asian people are a part of our community and always will be, so standing up for them is really important."
For those who attended, the rally made a personal impact. In a time of fear and frustration, it gave them hope that things might change. Sarah Rinzan who helped organize the event said, "As an Asian-American student, I feel like it was really encouraging to see my community come together and say, 'Hey, we stand in solidarity with you.'"
And as cars honked by in support and the chants filled the air, a sense of empowerment spread. Amelia Chin explained, "This was my first rally and it was so inspiring to see people standing up for what they believe in. It made me really believe that we can bring about the positive change that needs to happen in our community."
Racism is a systemic issue that will take much longer to dismantle, as it is woven so deeply into society. That being said, this rally is a significant step forward. "There is still much to be done to address anti-Asian racism, from decolonizing our classrooms to reforming historically racist institutions," Peilin Lu acknowledged. "But we chose community over fear and there's boundless power in that."
About the Contributor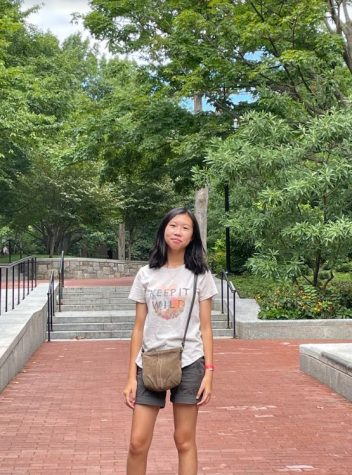 Allison Wong, Communications Director
Allison Wong is a senior at FM and this is her fourth year as a member of The Buzz. After starting out as a contributing writer for two years, she was...