FM Musical: A New World
This school year is a year like no other, so why should the long anticipated FM musical be any different? Instead of its usual format, the music department will be performing a Best of Broadway cabaret entitled A New World, which will include a selection of Broadway numbers with fully on-stage scenes. These numbers will include songs from Broadway hits such as Phantom of the Opera, Guys and Dolls, and Jekyll and Hyde.
Led by Mr. Hebert, Ms. Marisa, Mr. Mendez, and Ms. Bizup, this year's musical will take place on Friday, April 23rd and Saturday, April 24th. It will be an impressive event that highlights some of FM´s extraordinary performers, including the many seniors who are excited and saddened for their last time gracing the FM stage.
Rehearsals began on Monday, March 14 after many, many auditions were submitted. According to Mr. Hebert, director of this year's musical, ¨The auditions were fantastic–such great videos full of outstanding singing and acting.¨ Even though the musical might be different from previous years, it is expected to be as fabulous as ever!
Since sports and other extracurriculars have started to open up, people have wondered if that was going to extend to the music department. It seems that it has! School guidelines have recently been altered to allow children to sit three feet apart in classrooms instead of six. This has allowed for singers to move from twelve to six feet, encouraging safety among the cast and maximizing the amount of people allowed on stage. Dancers and singers performing will be spaced six feet apart and members of the pit orchestra will most likely be able to fit in the auditorium as well, appropriately spaced out.
New quarantine measures state that in order to be quarantined, one must be in the same room as an infected person for two consecutive hours. Abiding by this new rule, rehearsals will be in hour and a half increments. It seems that the staff are doing a phenomenal job at keeping everyone safe.
Aside from Covid guidelines, the performance itself will be new, fresh, and exciting. At the time of this writing, it will be entirely on stage, with full cast opening/closing and solo/small group numbers. However, it is not yet decided if guests will be allowed to watch the performance in person. Depending on the state of things, the shows will either be solely live streamed or both live streamed and performed to a very small audience.
As for sets, they will most likely be projections or small, easily movable props. Since choir and chorale take place on stage during the day, it would be much harder to have sets that wouldn't interfere. Using projections will transport the audience to different places, and create memorable scenes with exciting locations. This change won't take away from the hard work that the staff and performers are putting into this show, and if anything, it will draw more attention to the amazing students.
Please consider watching the livestream this weekend!  The two performances are Friday, 4/23 at 7pm and Saturday, 4/24 at 7pm.  Visit fmmusical.com to purchase the link needed.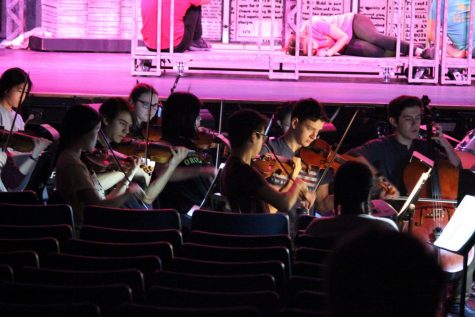 About the Contributor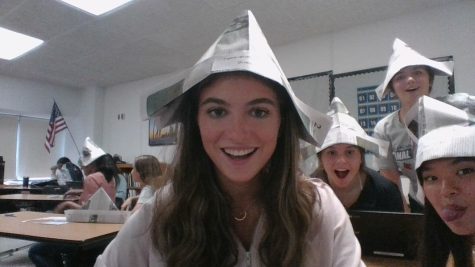 Gisele Fumarola, Communications Director
Gisele Fumarola is a senior at FM and has been working with The Buzz for three years. She has been a contributing writer, a Features Editor, and is now...