My Policeman review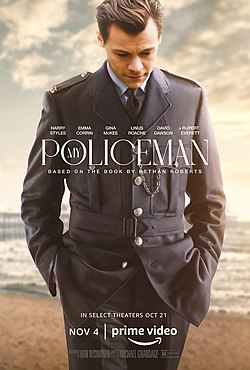 My Policeman is a recent R-rated film adapted from the 2012 novel of the same title, written by Bethan Roberts. The movie centers around a forbidden LGBTQ+ romance in 1950's Brighton, England. Policeman Tom Burgess, played by Harry Styles and museum curator Patrick Hazelwood, played by David Dawson, fall in love in a time when homosexuality was strictly against the law.
The movie portrays realistic experiences for people of the LGBTQ+ community who suffered from these societal standards. From the lying and secrecy, to the pain and consequences of being themselves, the movie invokes a wide range of emotions and reactions. Interestingly, this story takes place in two time periods, one in the romantic and exhilarating times of their younger years and also in their retired, quiet lives as senior citizens. As the movie flips back and forth between the different versions of each character (Tom, Patrick, and Tom's wife, Marion) you see how each one of them changes drastically from the trauma of the homophobia, secrets and lies.
In the beginning of the film, Tom finds Marion, a character who is played by the talented Emma Corrin, and is on his path towards a socially-accepted life at the time. He introduces her to his friend Patrick and the three of them become close friends, but as Patrick starts testing the waters with Tom, it is clear that there is no going back.
Tom's initial reaction is very clear, he is scared and unwilling to not only cheat on his girlfriend but to associate with the idea of falling in love with a man. He is placed in the middle of breaking the law and trying to protect his job as someone meant to uphold it. The movie addresses the very real fear Tom feels and his natural urge to protect the multiple lives he has at once.
Through the dual perspective, you see the toll this situation takes on all of the characters. The lack of closure, and heavy presence of secrets changes all three of the main characters deeply. Their love triangle evolves back and forth throughout the film, but finally meets a head at the end of the movie, leaving viewers in a whirlwind of emotions.
My Policeman will leave you laughing through tears, as it greatly executes the goal of displaying the struggles for the community at a time where it was not seen as acceptable. Even today, in a world that is moving forward, the cruelties of fighting love are still apparent. This movie has done a beautiful job of sharing the experiences that are still felt in different capacities by people in the LGBTQ+ community. It's a touching, tragic story directed by Micheal Grandage. My Policeman is currently available on Amazon Prime and is ranked as the #1 movie on the platform, I highly recommend!