A guide to student government
Student government is an exciting part of high school in that it gives students the opportunity to govern decisions about school events and communicate uniquely with the school community. Whether student government is something you want to get involved with or not, it is important to understand how the student government works at our school, to make effective decisions during student elections in the school year, and to know how to use your voice as a student to impact the student body.
At Fayetteville-Manlius, our student government is unique in that it is divided into two parts: the student council and the class offices. Let's begin by delving into the student council. The student council consists of 12 unique positions, some of which are co-chairs, meaning they are held by multiple people. The student council's faculty advisor is counselor, Ms. Campolieta. The student council is responsible for managing school-wide events throughout the year including any homecoming related events, spirit weeks, and most importantly, the annual Dance Marathon fundraiser. Each year, the "Dance Marathon MCs," a group of 14 senior students, work alongside the student council to plan the Dance Marathon fundraiser, the student council's largest yearly event.
This year's student council president is senior Katherine Brady, a veteran to the student council scene. Alongside her is Vice President Julia Comprix, Corresponding Secretary Gretchen Brian, Recording Secretary Mia Knuth, Treasurer Haley Kim, Accountant Michael Hance, A/V Director Mara McBride, Fundraising Co-Chairs Hilary Loh and Lily Pierce, Personal Relations Chair Max Danaher, Site Based Representative Luciano DeRoberts, Junior/Senior Liaison Ebun Abolade, and Freshmen/Sophomore Liaison Ritvik Mehta.
Elections for the student council take place each spring, typically in late May. To run for a student council position, one must attend a mandatory meeting in the spring, gather signatures from classmates for a petition, compose a short speech to be broadcast on FMTV, and hang up approved posters throughout the school prior to election day. More information regarding student council elections will be released as elections approach in the spring.
The second part of the FM High School student government are the class offices. Each grade has a class office consisting of a president, vice president, secretary, and treasurer, as well as a faculty class advisor. The class office is responsible for events unique to each class, including the junior prom and senior ball. The class office will host fundraisers throughout the school year to compile funds for the class, often including restaurant fundraisers, recreational sports tournaments, merchandise sales, and more. The senior class president each year speaks at the graduation ceremony, and traditionally serves as a student representative on school board meetings. This year's senior class treasurer, Hannah Park, has served on the Class of 2023 Class Office since her sophomore year and said, "It's beneficial to (serve on) class office because it offers students a chance to become leaders during their time at high school. It allows students to truly develop leadership skills that they can use in the future."
Elections for the class offices also typically occur in late May. Candidates are required to meet a threshold of signatures from their classmates to petition to run for office, then must prepare a speech to be delivered at an assembly in front of their class, and hang up campaign posters prior to the election. For freshmen, the class office elections take place in the fall, typically just a few weeks after the school year commences. For freshmen interested in running for office, be sure to keep an eye out for information regarding an informational meeting with your class advisor within the first few weeks of school.
An important aspect of student government is communication between the student body and school administration to ensure the student body is properly reflected in the events that are held throughout the school year. Anyone interested in running for student government should be an effective communicator, organized, and have the time to commit to serving the student body. Being on student government requires hard work, but it is an extremely rewarding and exciting experience.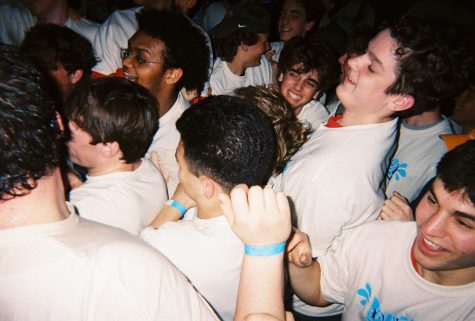 About the Contributors
Scott Hills, Entertainment Editor



Scott Hills is in his third year on The Buzz staff at FM High School. He began writing for The Buzz sophomore year, after taking the journalism...
Aum Patel, Visual Media Editor
Aum is the Visual Media Editor for the 2021-22 Buzz Year. He loves doing photography, if you ever see him, he is probably holding a camera in his hands....