Pink Out!
The electrifying back-to-back "Pink Out" scholastic basketball games on Friday, January 21st, made $5,558.50 in support of Camp Good Days, with record numbers of attendees despite the ongoing pandemic.
The fundraiser showed FM's solidarity with Camp Good Days and will, in combination with Dance Marathon, support cancer research and the camp to help better the lives of hundreds of children with cancer.
The boys' varsity basketball team easily dominated their game with Baldwinsville from the first minute, scoring  59 points to Baldwinsville's 39.  Trevor Roe led the team as the night's high scorer with a total of 17, but each and every player on the team played an important role in their victory.
The crowd was on their feet throughout all four quarters, and every last one of the bleachers had to be pulled out to accommodate the rowdy fans. The boys' win was practically secured before the game had even started thanks to the electrifying atmosphere they were greeted with when taking the floor.
FM's varsity girls' basketball team opened the night with a neck-and-neck game against Baldwinsville.  Lauren Hoffman led the team in scoring with a personal season's best of 10 points, with Ava Angello and Evie Kawa following close behind with 9 points each.  Although the FM girls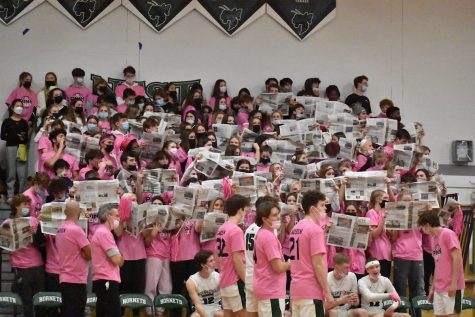 did not end up prevailing, the entire team worked hard to keep up with the Bees, and the game was intense to watch for FM's growing fan section as the night progressed.