A new year of student leadership
The 2021-2022 school year started off with something FM High School has not experienced for two years: homecoming. Kicking off with a pep rally Friday morning, students launched into an exciting game that night and a handball tournament the next day.
Soon after, the Red Cross Blood Drive was held, the Dance Marathon Emcees were announced, and the Bottle & Can Drive took place.
For many students and staff, these first events of the year symbolized a revitalization of school spirit, a reminder of school traditions, and a return to normalcy.
Behind the scenes of it all is a new student council that has been hard at work planning a year full of meaningful events.
The student council is advised by Mrs. Campoleita and includes Natalie Hugo (president), Dylan Venditti (vice president), Catherine Jia (treasurer), Aaron Lee (accountant), Katherine Brady (secretary), Max Danaher and Mara McBride (public relations co-chairs), Rachael Cahill and Charlotte Kaufmann (fundraising co-chairs), Milo Sinclair (site based team representative), Talia Cavalline (AV director), as well as Allison Wong and Natalie Rameas (liaisons).
Especially in a year that requires flexibility and innovation, a group that has variety in grade levels and interests like this one is key. As Charlotte Kaufmann put it, "Each grade has their own individuality even when we work together as one group; I think that is really unique to student council."
Last school year, it was challenging to promote school spirit with the absence of traditional events like homecoming and the addition of cohorts and online learning. This school year, student council hopes to cultivate as much optimism and enthusiasm into the student body as possible. Natalie Hugo said, "This year's student leadership is really important in getting everyone hyped up for all the events and getting that school spirit back to where it was before."
In order to accomplish that, a main priority for this year's student council is to create a sense of community within the student body. "I think getting the excitement back into school is really why student council is so important this year," Mrs. Campoleita said. "Our seniors are the only group that has seen a fully normal year, so a big piece of all of this is reengaging and getting back to the things we used to have."
It helps that this group is comprised of students, allowing members to plan events that their peers will truly enjoy. "Student leadership is important because it allows us to provide our perspective on things," said Charlotte Kaufmann. "We get more of a say as leaders and we can push for more things to get done that we know our peers really want."
Student council has big plans for this school year and will be sure to keep the student body informed about how they can participate. "I think it is important for student leaders to not only organize these events, but also help to get the word out about them." explained Dylan Venditti.
With that in mind, be sure to stay tuned for upcoming events that student council is organizing and look forward to an exciting year full of school spirit!
About the Writer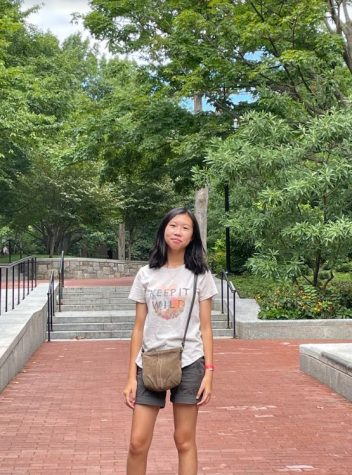 Allison Wong, Communications Director
Allison Wong is a senior at FM and this is her fourth year as a member of The Buzz. After starting out as a contributing writer for two years, she was...