Another Record-Breaking Season for the FM Girls Swimming and Diving Team
Two weeks prior to the first day of school, the FM Girls Swimming and Diving Team began their mission towards a sixth undefeated season. With just over a week's worth of practice, the girls started their season stronger than ever at their first meet against Liverpool. Tears were shed as seniors Addie Antshel, Morgan Kingsley, Megan Elliott, Emma Luttrell, Maddy Van Bramer, Hali Seidberg, Gwen Iles, Catrina Roman, Anna Wilson, and Libby Reed, realized it was their final first meet.
 The tone was set instantly when Georgia Langan, (SO) charged through her 50 freestyle with a best time of 25.15 seconds, putting her 6th in the section, and 24th in the state. Just behind her was Morgan Kingsley, (SR) with a time of 25.48 seconds, followed by Libby Reed with a personal record of 28.28 seconds. The energy continued as Georgia struck again with an amazing time of 56.41 seconds in her 100 freestyle, as well as Hali Seidberg (SR) going a 1:05.16 in her 100 backstroke. To complete the night, Emma Luttrell (SR) blew away coaches and athletes with a state qualifying time of 58.74 seconds in her signature 100 butterfly, and soon after Morgan Kingsley with a personal record of 1:09.95 in the 100 breaststroke, putting her second in the section for breaststroke. But this was only the beginning of a season that compares to no other.
With momentum from their astounding win over Liverpool, the girls took on one of their biggest rivals, but closest friends, JD. While it was only the second meet of the season, the girls didn't let that stop them from dominating. Devon Sedlack (SO) proudly took 3rd place in diving with 184.40 points, followed by Maddy Van Bramer with 163.35 points. Devon and Maddy also welcomed a new diver to the board, Maeve Kelly (FR), who dove in her first meet ever that night. Just before the 200 freestyle relay, Emma Luttrell raised the energy even more with a time of 5:15.17 in her 500 freestyle, breaking the JD pool record, and inspiring many swimmers from both teams. Fifteen new individual sectional cuts were also made, including Megan Elliott (SR) with her first sectional cut in the 100 freestyle, as well as Lilly Fowler (SO) with a time of 1:23.31 in the 100 breaststroke. In the second heat of the 100 freestyle, Kirsten Iles (SO) also had a first when she broke a minute in her 100 yard freestyle, with a speedy time of 59.95 seconds. 
Just days later in their meet against Auburn, the girls were victorious yet again, with a score of 88-57, and at least three more girls added to their sectionals team, one of them being Catrina Roman (SR) with a well-deserved time of 1:13.93 in her 100 backstroke. Along with Catrina, Jule Voelk (FR) and Gwen Iles (SR) joined the sectionals team that night in the 200 yard IM and 200 yard freestyle, respectively. 
Just as things seemed as though they couldn't get any better, senior night against CNS rolled around on October 5th. The girls were surrounded by the comfort of their home pool (Cazenovia College). Students and parents were eager to watch them compete- a perfect setup for success. After taking loads of pictures and decorating the walls with banners and dazzling posters, lane 4 established its good luck charm starting with the second event, the 200 IM. 
Swarms of ecstatic, bright-eyed swimmers and divers flooded the end of lane 4 as Emma Luttrell qualified for states in her 200 IM with a time of 2:12.63, breaking the Cazenovia College pool record. After rejoicing with Emma, Gwen Iles (SR) climbed up on the start block of lane 4 for her 50 freestyle, finishing with a personal record and sectional qualifying time of 28.67 seconds. The pattern continued when Maddy Van Bramer (SR) had a fantastic night on the diving board with a score of 197 points, 27 points over the sectional cut. Next, Ceci Cao (JR) bravely swam her second 100 yard butterfly ever, going a time of 1:05.78. "I wasn't expecting it at all," explained Cao, "it definitely could have been better, but I was the happiest I've ever been finding out that I could actually swim the event without dying halfway through." 
A few events later, the 200 freestyle relay team consisting of Hali Seidberg (SR), Morgan Kingsley (SR), Georgia Langan (SO), and Emma Luttrell (SR) qualified for states with an astounding time of 1:41.40, causing the excitement from the pool area to be heard for miles. Pure happiness filled the faces of the four girls in lane 4 as their team showered them with hugs, fist bumps, and tears of happiness. 
Surprisingly, the team only had two official home meets in their season. The second and final one against CBA occurred a week after their senior night. Lilly Fowler started off the night by qualifying for sectionals in her 200 IM, and soon after in her 100 yard butterfly, adding two more events to her list for sectionals. Halfway through the meet, Libby Reed and Sammy Roddy both had best times of 1:02.70 and 1:00.05 respectively in the 100 freestyle. The meet couldn't have ended any better when sisters Emma and Avery Luttrell (SO), accompanied by Grace Reyna (JR) and Sammy Roddy (SO), combined into one relay team for the 400 freestyle relay, taking second place after the relay team consisting of Georgia Langan (SO), Hali Seidberg (SR), Kirsten Iles (SO), and Emily Wilson (SO) took first with a time of 4:10.16. 
Aside from the 2021 season, the Girls Swimming and Diving Team has had eye-opening success in years prior as well. Over the past 5 years, the FM Girls Swimming and Diving team has earned 5 consecutive SCAC league and Section 3 Class A titles, 4 George Farwell Cups, and 2 Empire Eight Titles. The girls have also won 56 consecutive dual meets, and posted at least 100 separate sectional times/diving scores. They will surely go down in history with obtaining over 80 of FM's top 10 times/diving scores of all times. 
However, while times and titles matter to the team, so do the things that can't be seen in the record books. "My greatest accomplishment this year has been my confidence," explained Sammy Roddy (SO) before stating any of her times, "swimming is a very challenging mental sport and being more confident in myself has pushed me to be more successful with my times."
With sectionals, state qualifiers, and states just around the corner, the girls are continuing to work hard in every practice. This includes two new divers, Corrina Silvis (JR) and Maeve Kelly (FR), who continue to work hard towards challenging dives. What lies ahead is still unknown, but one thing for sure is that the energy and commitment of each girl on the team has gone a long way, and will continue to bring them great places.
About the Writer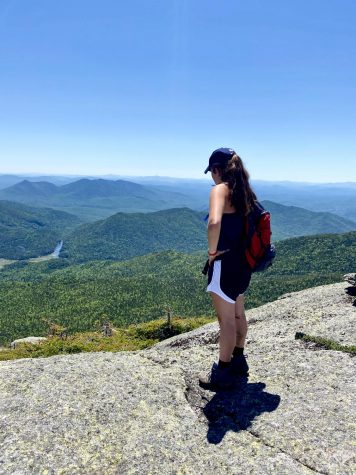 Gwenyth Iles, News Editor
Member of the Girls Varsity Swimming and Diving Team, alpine ski racer for Labrador Mountain

"If you obey all the rules, you'll miss all the fun."~Katharine...